August 17, 2023
VFFS Baggers, Pre-Made Pouch Machines & Multi-Head Scales: Automated Packaging Solutions for Pet Food Producers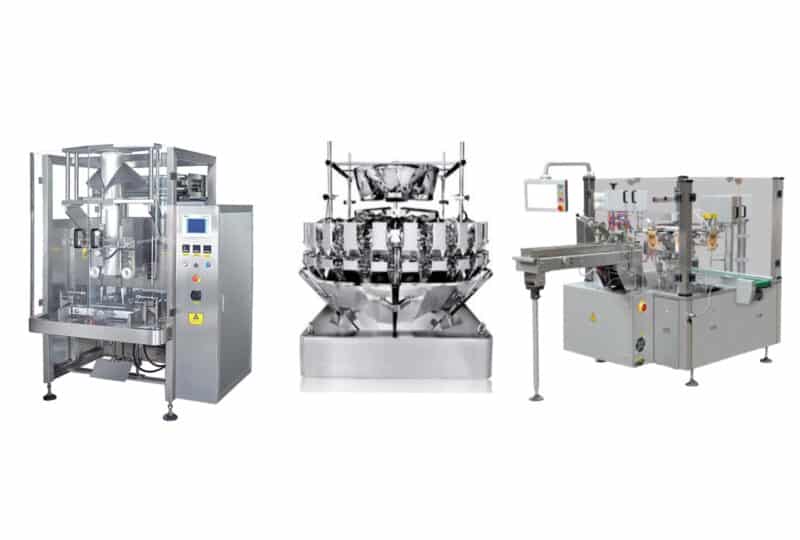 As a pet food or pet snack manufacturer, you know how important it is to deliver high-quality products to your customers. But with growing competition in the market, meeting those elevated standards can be challenging, especially when it comes to packaging.
That's where BPI Equipment can help, offering a range of automated packaging solutions to ensure your products are packaged quickly, efficiently and with precision.
In this article, we'll explore how our VFFS baggers, pre-made pouch machines and multi-head scales can be integrated into an automated packaging process for pet foods and pet snacks.
Vertical Form Fill Seal Bagger
VFFS baggers, or Vertical Form Fill Seal baggers, are designed to create a wide variety of bag styles on a single machine, from pillow bags to gusseted bags, flat bottom bags and more.
These machines fill and seal bags in one uninterrupted flow, ensuring high efficiencies in packaging processes. With their precision accuracy in measuring and dispensing products and the ability to customize bag sizes, VFFS baggers are a popular solution for pet food manufacturers. They are particularly well-suited to handling dry, free-flowing products, such as kibble, and can quickly adjust to different packaging needs.
Intuitive controls and user-friendly software make these machines accessible to operators of all skill levels. This not only reduces the risk of errors and costly downtime but also increases productivity by enabling faster set-up times and smoother operation.
Pre-Made Pouch Machine
Pre-made pouch machines are designed to handle pre-made pouches that have been pre-printed and laminated, capable of handling a variety of styles, colors and finishing options. Pre-made pouches are a popular option in the pet food and snack industries as they provide excellent barrier properties and shelf-life. They're best suited to package a wide range of products, including wet pet foods and treats such as jerky treats, dog food with added vitamins and nutrients and soft chews.
Pre-made pouch machines take pre-made pouches and fill them with the desired product, sealing them for transportation. These machines provide consistent filling and an excellent seal, making them perfect for products, such as pet treats, that require moisture or oxygen barriers.
BPI Equipment offers pre-made pouch baggers that are sleek, user-friendly and high-performance, and can provide a wide range of options, including output of up to 350 bags per minute. Additionally, pre-made pouch baggers offer several sealing options, from heat sealing to zip-lock and clip closures, which can enhance convenience and safety for end users. 
Multi-Head Scale
Multi-head scales, as the name suggests, consist of multiple heads that can weigh and fill multiple bags simultaneously, helping save time and labor costs.
They're widely used by pet food producers as they deliver high-speed, accurate and consistent measures of weight, available from BPI in 10-head models up to a 24-head blending scale. Multi-head scales allow for the distribution of product across multiple lanes, increasing production speed while maintaining precision in product weight. They're particularly useful when packaging multi-component pet foods and snacks where the proportions of ingredients need to be precise.
How BPI Equipment Can Help
Integrating VFFS baggers, pre-made pouch machines and multi-head scales into your automated packaging process can provide numerous advantages to your pet food operation. With faster, more efficient packaging solutions, you can meet the growing demands of your customers at lower costs.
If you produce dry pet food, a VFFS bagger can help you quickly and accurately package your product into bags. If your pet food or pet snack product requires a moisture or oxygen barrier, a pre-made pouch machine can provide an excellent seal, including resealable bag options, ensuring your product remains fresh for longer periods. On the other hand, if you have multi-component pet food products, multi-head scales may be the better fit, helping to reduce your overall packaging time while limiting waste.
At BPI Equipment, we provide expert guidance and ongoing support to help you choose the right machine for your unique pet food or pet snack product, with on-site installation and training available by our staff.
Get in touch with our experts today to learn more about our automated packaging solutions!