July 25, 2023
VFFS Baggers, Multi-Head Scales & More: Automated Packaging Equipment for Pasta, Rice & Beans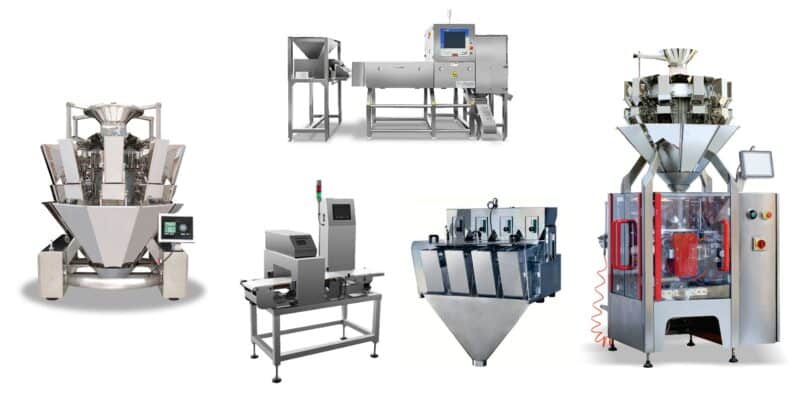 As commercial pasta, rice, and bean packagers consider automating their packaging process, they may encounter various questions and dilemmas. The decision to automate is often driven by the need for higher productivity, a reduction in labor costs, and improved efficiency.
In this article, we'll delve deeper into how different types of pasta, rice, and beans can be packaged using automated equipment, with a special focus on three types of equipment: vertical form fill seal baggers, multi-head scales and pre-made pouch baggers.
Vertical Form Fill Seal Baggers
Vertical form fill seal baggers (VFFS) are often the go-to equipment for packaging dry products, including pasta, rice and beans. These include long and short pasta shapes, various types of rice, and dried or canned beans. Each of these food items requires specific packaging characteristics, and selecting the right equipment is critical for maintaining high-quality standards and protecting the product during storage and shipping.
Pre-Made Pouch Baggers
Pre-made pouch baggers are an excellent choice for packing a wide range of products, including pasta, rice and beans. These machines can fill pre-made pouches or bags with the product, seal them and provide an easy-open mechanism.
When deciding on an automated packaging system, pre-made pouch baggers present an attractive option as they are easy to use and maintain. BPI Equipment offers pre-made pouch baggers that are sleek, user-friendly, and high-performance, and can provide a wide range of options, including output of up to 350 bags per minute. Pre-made pouch baggers can handle various types of pasta, rice and beans and can allow manufacturers to mix different types of product in a single bag or pouch. Additionally, pre-made pouch baggers offer several sealing options, from heat sealing to zip-lock and clip closures, which can enhance convenience and safety for the end-users.
Multi-Head & Linear Scales
Multi-head scales are precision weighing systems that ensure the accurate measurement of a product weight. These scales have multiple compartments that hold the product and measure their weight. They allow for products to be batched with high accuracy, minimal waste and boosted profitability.
BPI offers several models of stainless-steel multi-head and linear scales capable of integration with other components and handling a variety of different pasta, rice and beans. One of the most important things to consider when choosing a scale is size and capacity. What are you weighing? Do you have any height or size constraints? How much do you need to weigh at one time? Keep these questions in mind when selecting a weighing station so that you choose one that can accommodate your needs.
Another important consideration is accuracy and precision. When you're weighing something in a high-output, automated manufacturing environment, you need to trust the weight is accurate. At BPI, we employ state-of-the-art technology to ensure our scales are easily operable and precise with minimal deviation.
Solutions for Your Packaging Dilemmas
Selecting automated packaging equipment can be a daunting task, with many factors to consider. One of the most significant issues is deciding on the most suitable equipment for the particular product. The texture, shape, and size of the product need to be considered, along with the required production speed and accuracy.
Additionally, there are various packaging styles and sizes to choose from, which can sometimes be overwhelming. The packaging choice must complement the target market, brand image, and product's shelf-life requirements. BPI Equipment offers a range of equipment solutions customized to suit specific client needs, making the decision-making process more manageable.
How BPI Equipment Can Help
BPI Equipment prides itself on its ability to offer personalized solutions to clients, taking into consideration their distinct needs and goals. Our team has extensive knowledge and experience in the automated packaging industry and can guide clients through the selection process to ensure they make informed decisions. Our equipment is known for its reliability and low maintenance, allowing packagers to maximize productivity and profitability.
Automating the packaging process can be a game-changer for small to medium-sized companies in the pasta, rice, and bean industry. As a supplier of first-class automated packaging systems, BPI Equipment offers cutting-edge solutions that deliver exceptional results. From vertical form fill seal baggers, multi-head scales to pre-made pouch baggers, we offer a range of options customized to suit your operational needs. With our staff's expertise, customers can approach packaging dilemmas with confidence, knowing they have the best equipment and support.
Have a question about your automated packaging process? Are you unsure where to begin in searching for a new or refurbished machine? 
Contact us today to schedule a consultation and take your first step toward improved operations!