August 24, 2023
Stick Pack Machines, VFFS Baggers & Pre-Made Pouch Machines: Automated Packaging Equipment for Powder Manufacturers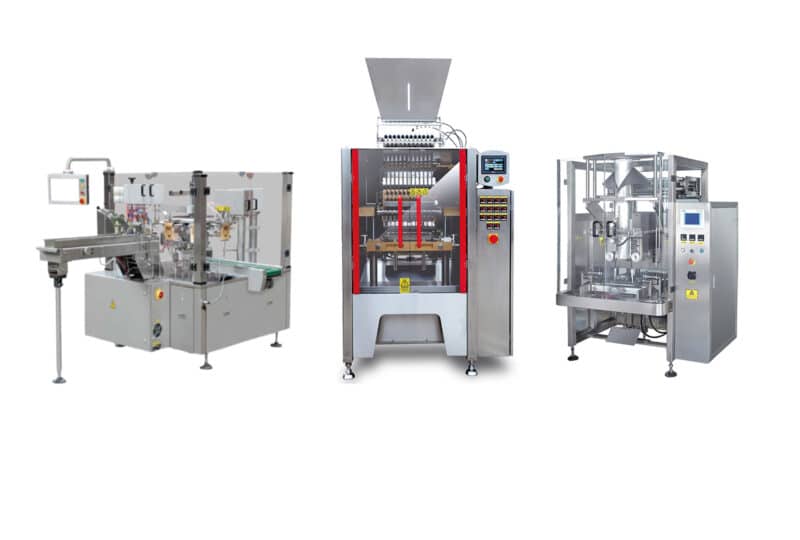 As a leading supplier of automated packaging equipment, BPI Equipment offers a range of innovative packaging solutions for small- to medium-sized commercial packaging operations.
With our stick pack machines, VFFS baggers and pre-made pouch machines, we can help powder or granular product manufacturers streamline their packaging process, cut costs and improve overall efficiency.
Stick Pack Machines: Packaging Made Portable
Our stick pack machines are designed to package products in long, narrow packets that are easy to handle and perfect for on-the-go consumption. These machines are ideal for products such as nutraceuticals, drink mixes and protein blends, which need to be packaged in precise amounts for optimal efficacy. With our stick pack machines, manufacturers can quickly and accurately fill and seal multiple packets at once, reducing production time and improving consistency.
With high precision and great speed, our machines can produce up to 600 units per minute in 12 lanes, with seven different models to suit your business's packaging needs. Additionally, our stick pack machines can be customized to your specific needs, ensuring you get the best possible outcomes for your business.
VFFS Baggers: The Classic Solution
BPI Equipment's VFFS baggers offer an industry-standard solution that is well-suited to products of all types. With unsurpassed flexibility, our machines can make bags ranging from pillow bags to block-bottom bags with high-quality finishes. Powder products like cake mixes, and granular products like nuts and seeds, are easily packaged by our machines.
Our VFFS baggers are versatile and customizable, making them a great investment for manufacturers looking to scale up their operations. With our VFFS baggers, manufacturers can easily adjust bag sizes, fill levels and sealing options to meet their specific packaging needs.
Pre-Made Pouch Machines: A Premium Solution for Preserving Freshness
Pre-made pouch machines provide an excellent solution for industries with varying packaging needs. Our pouch machines can handle a wide range of pre-made pouches, including stand-up pouches, flat pouches and side-gusseted pouches, among others. Pre-made pouch machines are perfect for ground coffee, spices, sugar and other granular products.
An advantage of pre-made pouch machines is they produce high-quality seals on doy-style and pillow-style bags. These machines feature dual-stage seal jaws with wrinkle tension control devices that ensure quality top seals every time. BPI's line of baggers come equipped with a no-product detection device that helps to save on bag cost by rejecting any bags without product inside them, as well as no-bag detection with alarms and auto-rejection.
The machines use a servo-driven filling system, which ensures product accuracy and prevents the contents from spilling or sticking to the pouch. Additionally, our machines are designed for ease of use, reducing the need for operator intervention and maximizing production output.
How BPI Equipment Can Help
At BPI Equipment, we're devoted to helping our customers find the right packaging solution for their specific needs. Whether you're looking for a stick pack machine, VFFS bagger or pre-made pouch machine, our team of experts can guide you through the selection process and ensure that you get the equipment that's right for you.
In addition, we offer a full range of ancillary equipment, including multi-head scales, product conveyors and inspection machines, that can further enhance your packaging process and help you achieve your production goals.
With BPI Equipment's expert guidance, installation and ongoing support, you'll receive the best packaging equipment and support available in the industry.
Contact us today to learn more about how we can streamline your packaging process and help your business succeed.