December 15, 2022
BPI Packaging Equipment — Machinery that Keeps Your Popcorn Business Popping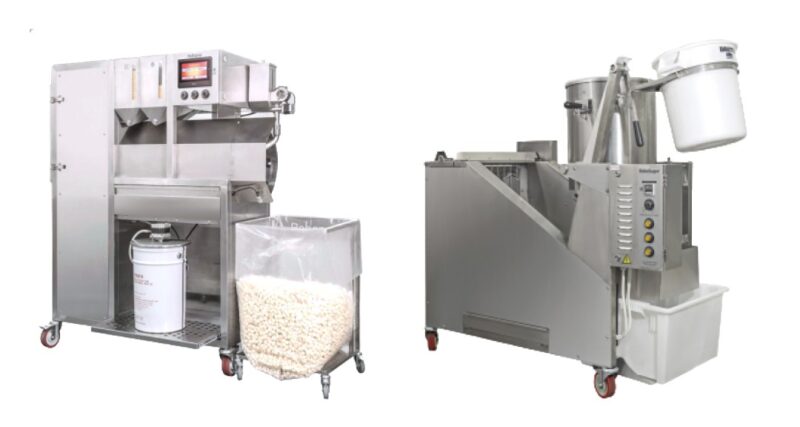 Popcorn is a classic snack food enjoyed by people of all ages. It's simple to make, requires little effort and supplies an affordable, crowd-pleasing treat. However, when it comes to producing large batches of popcorn for commercial sale, businesses might want to consider employing automated caramelizers and hot air poppers. Not only do these machines provide reliability and consistency, but their convenience makes them a great choice for busy business owners who want to save time and energy while also meeting customer demand.
If you're in the popcorn industry, then you know that having reliable, easy-to-navigate equipment is essential to creating consistent products — and your success. That's why so many businesses trust BPI Packaging Equipment to supply their automated production and packaging solutions such as hot air poppers to caramelizers.
We'll take a closer look at two of BPI's popular offerings, the RoboLabs RoboSugar Auto 10 caramelizer and the RoboPop60 vortex popcorn machine. For businesses with larger-scale needs, we also carry other RoboLabs models, including the RoboPop75 and RoboPop220. Read on to learn how you can turn over tedious work to our precision units.
RoboSugar Auto 10 Caramelizer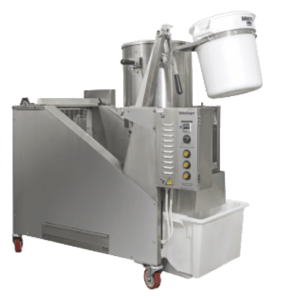 RoboLabs' RoboSugar Auto 10 caramelizer is a top choice for businesses that need to produce large quantities of caramel corn quickly and efficiently — a great option for high-volume operations. With the RoboSugar Auto 10, caramel coating occurs in the kettle. Following caramelization, the popcorn is dumped onto the mesh belt, where it's separated and cooled, with a crumb tray collecting fragments, before automatically exiting the chute.
Capable of also producing candied popcorn, this caramelizer, along with others we carry from RoboLabs, features an easy-to-use touch screen interface and automatic, adjustable temperature control, cutting down the possibility of burnt batches. Caramelizers of the past tended to be bulky and require valuable floor space; the RoboSugar Auto 10 measures 64"x59"x34", making it ideal for businesses of all sizes.
The machine is a remarkable time saver for operators, allowing workers to complete other tasks as the batches are mixed. During cooling, the next cycle of caramelization can begin, if desired, allowing for uninterrupted production.
RoboPop60 Vortex Popcorn Machine 
The RoboPop60 vortex popcorn machine is an automated solution for businesses that need to churn out regulated, consistent batches of popcorn. This machine eliminates the need for oil and carcinogens while still producing a delicious popcorn snack. The RoboPop60 is perfect for both butterfly and mushroom corn production thanks to its double feeder, which allows you to quickly switch between varieties.
This model includes an automatic salt/oil application system, so you can make traditional butterfly popcorn using oil and salt with ease. The RoboPop60 has a built-in warming compartment for two standard 22 kg oil buckets, which keeps the oil nozzle warm during popping without having to solidify the oil. This machine also comes equipped with bag overfill and low-corn-level sensors that alert you when to replenish your ingredients or adjust the quantity of your order.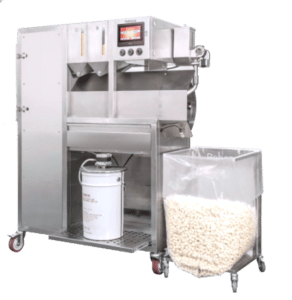 Another great benefit of using a RoboPop 60 is that they generate far less waste than traditional stovetop popping methods which tend to leave behind unpopped kernels or burnt popcorn. These machines take up much less space than traditional cooking methods allowing smaller businesses with limited counter space to still enjoy increased production capacity without compromising on quality or safety standards due to their compact design.
What's more, this machine's easy-to-use technology requires a low level of training to operate and provides a fully adjustable flavoring and salt seasoning feature, so you have complete control over the taste of each batch of popcorn produced.
The RoboPop 60 Vortex Popcorn Machine runs on continuous operation mode, ensuring that production costs are kept as low as possible with no need for constant manual intervention or adjustments. It's estimated the RoboPop 60 can produce run roughly three cycles per hour, with one person both loading and transferring products to warmers or secondary bins.
Boasting powerful features and easy-to-use design, it's no wonder why this machine has become such a popular choice amongst businesses looking for efficient popcorn solutions.
If you're considering investing in an automated hot air popper or caramelizer, allow BPI to help in guiding you to the solution that achieves results. Contact us today!